In my next-to-last post I said Joe Biden gave the worse speech by any president in my lifetime. In his relentless pursuit of perfection, Biden excelled himself and gave an even worse speech yesterday.
Afghanistan last week, COVID yesterday.
As with the Afghanistan speech, the COVID speech was wretched both in terms of atmospherics and substance. The speech dripped with condescension and disdain for large numbers of Americans, notably those who are not vaccinated. (Implicit in most attacks on the unvaccinated is that they are white MAGA Neanderthals: in fact, Biden's and the Democrats' most important constituency, low income blacks, are disproportionately represented: why aren't Biden and his party tarred as racists?)
One line in particular was disgusting: "We've been patient, but our patience is wearing thin." Our patience? Our patience? Who are you? Just who the fuck are you that your patience matters fuck all?
And who is this we/our? You royalty now Joe? Or are you speaking on behalf of those actually pulling the strings.
Biden made two main arguments: it's hard to decide which is more idiotic and insulting.
The first is that the unvaccinated pose a threat to the vaccinated: "We're going to protect vaccinated workers from unvaccinated co-workers."
Well, it looks like Dumb and Dumber have a new partner–Dumbest: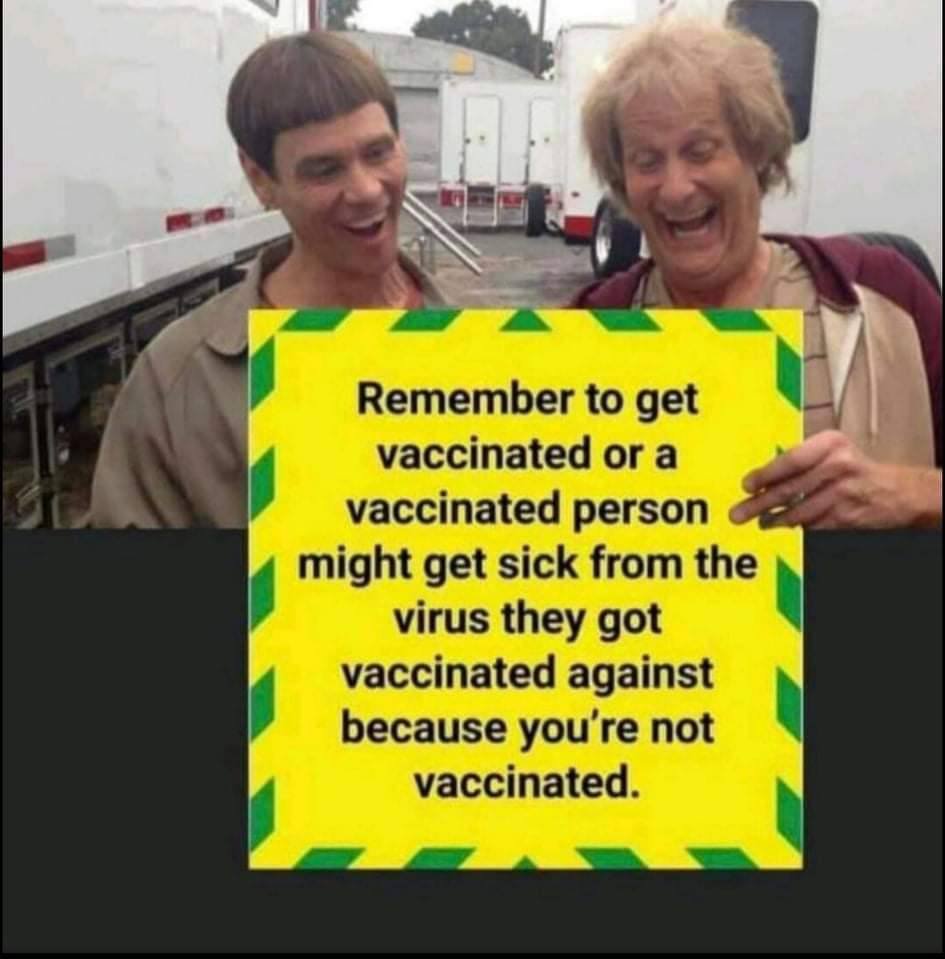 The externality argument for mandated vaccinations has always been extremely weak. (Not surprisingly, alas, many economists have pushed this lazy argument because too many economists thinking about externalities is lazy in general.) As Coase pointed out long ago, it takes at least two to have an externality, and it is neither obvious nor relevant who "causes" it. The optimal assignment of a property right (and in the case of vaccination policy, what is involved is property rights in one's person) depends on who is the least cost avoider.
With vaccines, if you are at high risk of COVID, and/or petrified of it, and/or think that the risk of vaccine is low, you can avoid COVID by becoming vaccinated yourself at lower cost than requiring someone who, for example, perceives the vaccine risk to be higher or incurs some other cost to take it (e.g., a religious objection) to be vaccinated. You can protect yourself at low cost: why force someone else to protect you at high cost?
So vaccinate yourself, and don't force anyone else to do it–or demand the government force anyone else to do it.
But that argument is really moot now. Biden's mandate is driven by the Delta variant, and Biden's own CDC–you know, the experts whom we are supposed to defer to–says that vaccination doesn't reduce the risk of transmission (though it does reduce the risk of serious illness–supposedly, although experience in Israel and elsewhere is casting doubt on that).
(One aside. This speech and the policies expressed were cast specifically as being a response to Delta. If you follow the data, you will see Delta has crested and is declining rapidly: even the NYT admits as such. As well as representing an unwarranted and unjust exercise of power, this policy is cynical: the administration will take credit for the decline in Delta even though it will have nothing to do with it.)
Further, there is the issue which has been raised by very esteemed (or at least once-esteemed) scientists (e.g., Nobel winner Luc Montagnier, but not just him) that the vaccines have spillover effects. Namely, it is hypothesized, and there is some evidence to support, that the vaccines accelerate mutation and in particular mutations that evade the vaccines. Meaning that there could be negative externality not from avoiding vaccination, but from being vaccinated.
As for the other costs that Biden mentions, namely the higher risk of serious illness and death among the unvaccinated, well that's internalized: people willingly run the risk, and pay the consequences.
Biden's other argument was "keeping our children safe and our schools open." "For the children" is the last refuge of the modern (leftist) scoundrel. There is massive evidence–far more definitive than just about anything related to COVID–that children are at extremely low risk of either contracting or communicating COVID.
So hey, teacher, leave those kids alone.
It is particularly disgusting to see children used as Trojan horses for oppressive government policies given the massive harm that has been inflicted on them by governments at every level, most notably by denying them more than a year of education, as well as isolating them socially.
Not only are vaccine mandates a policy monstrosity, the means by which Biden is attempting to implement them are constitutionally monstrous. He has issued an executive order instructing OSHA to issue an emergency rule requiring all those firms employing more than 100 to make employment conditional on vaccination. As an emergency rule, this will be rushed through without the normal procedural safeguards the can sometimes prevent the promulgation of misguided and destructive policies. Moreover, doing this at the federal level by executive–something Biden said during the campaign he would not do and which his execrable flack Psaki said he could not do as recently as 23 July–runs roughshod over the Constitution and federalism.
But that was then. This is now. The even more execrable White House Chief of Staff, Ron Klain, called the OSHA gambit "the ultimate work-around." Funny I remember the oath of office being about protecting and defending the Constitution, not "working around" it.
Why do we even have a Congress? That's a serious question. Why do we have states? Another serious question.
Many parts of the country are strongly opposed to his. Many governors in states in those parts of the country have vowed to fight. To which Biden said: "If they will not help, if those governors won't help us beat the pandemic, I'll use my power as president to get them out of the way."
What powers would those be? Just how, pray tell, can the president get governors "out of the way"? A drone strike? (You know, like the one that killed an Afghan who had helped Americans and his children?)
I've said before, and I will say it again: we are hurtling towards a constitutional crisis. Vaccine mandates are bad on the merits, and even worse when rammed down our throats while throwing constitutional and federal principles to the winds.
Not only has Biden given the worst presidential speeches of my lifetime, he has cemented his place as the worst, most destructive president of my lifetime, supplanting–by a mile–the loathsome LBJ. Alas, LBJ's deficiencies became acute when he was entering the last year of his first full term (and his fifth year in office). Biden's are manifest mere months after his inauguration. And his abject failings, and stubborn, disdainful refusal to brook any objection, are fanning the flames of civil conflict that could make the Vietnam protests look tame by comparison.
I have considered whether we have reached a stage where "the worse, the better" is a reasonable position. If one does indeed believe that, these are the times for you, and Joe Biden is the president for you.